Lorraine's Story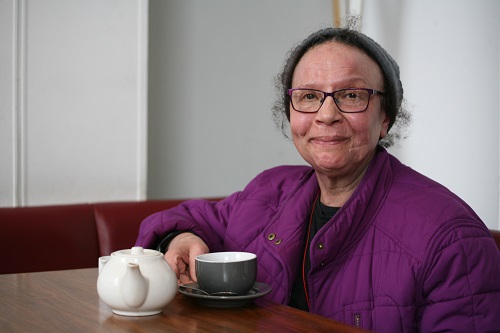 Lorraine Dunckley Clarke had her last cigarette on 14 March 2011 and has been proud to be a quitter ever since. "I don't miss it," she said, "I see people smoking and it sounds terrible but I just feel sad for them."
Born in Liverpool and brought up in Birmingham, Lorraine was never tempted to smoke at school although lots of friends were smokers. "I used to look at them practising so they could do it properly and I just thought it was funny!" said Lorraine. "I used to feel almost superior as a non-smoker and I never would have been able to anyway as my dad was very strict, and as an ex-smoker himself he was really against it."
Lorraine moved to London, to Camden initially, with her partner and young children when she was in her twenties. She worked as an artist and clothes designer and she made and sold clothes in Camden Market. It was here that the thought of smoking began to have some allure. "Smoking was very popular and it was just around me everywhere so I started thinking about it more." It was a little later that Lorraine tried her first cigarette.
Her first memory of smoking is whilst on holiday with her children in France. "I was feeling quite stressed with the children running around and I saw this woman smoking and she just looked so calm and relaxed that I decided to give it a try."
Lorraine moved to Hackney in the 1980s and continued smoking socially. After her children left home she gradually transitioned into being a 20 per day smoker. She has attempted to quit once before, at a group clinic, but found that this setting was not quite right for her. "I felt like I was saying what people wanted to hear, and that I had to try to impress the other group members. I just didn't feel like I could be myself. I still missed the smoking so I allowed myself to have just one. It built from there and soon I was smoking again."
About a year later, a conversation with her daughter prompted Lorraine to attempt to quit again. "I used to look after my grandson two days a week and I wouldn't smoke when I was with him, but when I dropped him off at my daughter's house she would tell me she could still smell smoke on me. The smell of smoke was just engrained in me and I realised that it was really quite serious. I didn't want to be subjecting my children and grandchildren to this."
Lorraine spoke to a stop smoking advisor at a stall in Kingsland Shopping Centre in Dalston and signed up to join the service immediately. "The experience of having a one-to-one session with an advisor just worked for me and was so different from the group sessions. Fred, my advisor, was non-judgemental and very practical and most importantly she never emphasised that I had a problem. I really felt like I had support and I enjoyed coming to sessions. I was always excited to come in and tell her that I hadn't had a cigarette and she was always genuinely happy for me too. I felt like someone was on my side." She also benefitted from the motivational tools she picked up in sessions.
"I had a calendar showing the days I had been smokefree and at the end of each day without a cigarette, I would tick another one off. That really helped me to stay motivated and I could see how far I had come. I also counted how much money I had saved at the end of each day without a cigarette and that made me realise how much money I had been throwing away over the years." Since giving up smoking, Lorraine has noticed a difference in both her health and her bank balance. "I didn't realise at the time, but my lungs were really bad. I have friends who still smoke and when I talk to them on the phone they're constantly coughing and spluttering. My children tell me that that's what I used to sound like and now I don't get those symptoms at all."
Lorraine has also made other lifestyle changes since giving up smoking. "I started walking more to keep myself busy and I really enjoyed that, so now I'm exercising regularly. I also started eating more healthily. As I've got older, I've realised that I want to live as long as possible, and I also want my older years to be healthy ones so it's important to be looking after myself now." Lorraine feels that the key to her success in giving up smoking was her mind-set. "I was just determined not to smoke. As a smoker I felt terrible, why would I want to keep putting myself through that?"
Her advice to anyone who is finding it difficult to kick the habit is: "Never give up giving up. Keep yourself busy by taking up a new hobby, or getting into exercise, and spend the money you're saving on doing things you've always wanted to do to keep you occupied."
Ali Akpinar's Story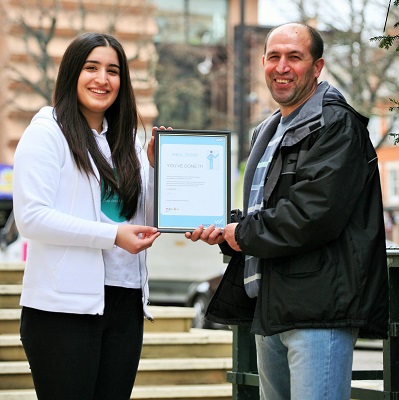 Former smoker Ali Akpinar, 42, quit smoking after 22 years with the help of the Community and Bilingual Stop Smoking service provided by the Shoreditch Trust.
Ali moved to the UK from Turkey in 2003. He has lived in East London with his wife and teenage son since 2007. Ali started smoking at the age of 20 whilst doing military service in his home country. It was a stressful time and many friends in the army also smoked.
Following his time in the army, Ali's tobacco intake reduced. "After military service I became a beekeeper, because we were in a rural area it was more difficult to get cigarettes so I didn't smoke as often." However Ali's arrival in the UK saw his smoking increase to 15 to 20 cigarettes per day and he soon developed a long term dependency on tobacco.
After developing Multiple Sclerosis, Ali decided to stop smoking; increasing health problems meant he was unable to work. Ali's wife had also been a smoker and their combined habit was costing the family up to £4000 per year. Ali's MS was exacerbated by smoking, causing difficulty in walking and a lack of energy in his legs.
Friends and family encouraged Ali to stop although a lot of them smoked themselves. "My wife who quit [with the Community and Bilingual stop smoking service] earlier in the year urged me to try it for myself." Ali chose to use the community based service, attending their Sunday walk in Clinic at Homerton Hospital which provided support in his mother tongue; Turkish language.
"My advisor Pinar Kurt helped me. I used to see her for twenty minutes on Sundays. When I attended I felt comfortable speaking to her. Also Pinar is Kurdish like myself so that helped build rapport and I felt I could be more open."
Ali had never used a stop smoking service before and was unaware of the benefits associated with accessing a specialist support programme.
Ali attended sessions for seven weeks and was provided with Nicotine Replacement Therapy in the form of patches which he used for 12 weeks. Pinar Kurt, his Turkish speaking advisor who has worked in various roles within the stop smoking service, supported Ali to quit, helping him to plan his quit attempt with an initial consultation lasting 45 minutes that outlined the main aspects of the support programme as well as the health and financial benefits of quitting.
Pinar says: "Ali had smoked for more than twenty years so he was surprised to quit. I'm relatively new to advising so I'm really glad I could help him."
Ali says he now understands the health harms from smoking; "I couldn't taste food properly and missed the smell of flowers and nature." He was also unaware that smoking was costing the family so much financially. "That could have put us in debt." Ali has saved lots of money and reports that his wife is now in charge of the savings. They are saving for a home for their son.
Ali tells all his friends about the dangers of smoking and he continues to recommend the stop smoking service. "I know I can come back to see you if I have any problems, I am looking forward to being Smokefree for six months. It's been four months so far."
He finds that healthy eating, particularly aubergines in his diet as well as the occasional boiled sweet help him to keep on top of cravings. "I used the patches but don't need them anymore. I occasionally use menthol lozenges if I get an urge to smoke".
What would Ali do to support anyone still undecided about whether or not to use an NHS Stop Smoking Service? "I would want to grab their hand and bring someone to clinic myself, I would be proud to help someone in that way."
Markus' Story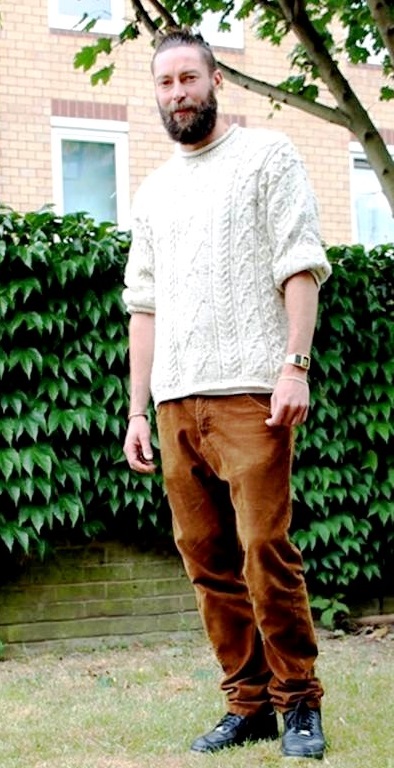 Markus Wilson successfully quit in June 2015 after more than 10 years of smoking. Markus had tried to stop smoking many times, but found the cravings too hard to deal with.
"I just didn't have the willpower. I went through bouts of wanting to quit and I would go cold turkey for a couple of days but then the cravings would get too much for me and I would give in and it would just be that cycle, endlessly that cycle, again and again, until I turned up here."
Markus started smoking as a teenager; "I was just being a kid at school, everyone tries it, all the cool kids are doing it and I thought I was a cool kid." He continued into adulthood - "it was literally that whole teenage peer pressure and I never got out of it."
Markus managed to successfully quit for about a year when he was 23, but a relationship with a heavy smoker lead him to slowly creep back into the habit. He has been trying to quit ever since.
After many months of wanting desperately to quit, Markus came across Hackney's Stop Smoking Service whilst talking to an advisor at the HBV Enterprise Centre on Dalston Lane about a business loan.
"I had seen posters and logos around and it just sort of aligned for me because I had been wanting to quit, trying to quit for ages." He was told that he could attend a drop in clinic to speak to a stop smoking advisor and decided that he had to do it. "I thought right, I'm going to do it, there's no harm in dropping in and having a quick chat." From that day onwards, he hasn't looked back.
"It's actually shown me that you're not a strong guy for doing something on your own, you're a strong, courageous person for admitting that you need to go and get support."
Markus found that the support of a stop smoking advisor made a massive difference to him throughout the process of quitting. "It was so easy doing it with Marie and Dayyanah. Before, I kept hitting a brick wall because I was doing it on my own, but this time I literally felt like I wasn't on my own at any point." He feels proud to have realised that he needed to get help to quit smoking.
Markus had not tried using medication to help him quit before, thinking that it wouldn't work for him, but this time he tried it. "The medication was huge for me. When the cravings were really bad I would just have some gum or have my inhaler and it would sort the cravings out and then I could just move on." With time, he was able to phase out the medication; "eventually the cravings just stopped so I stopped using the medication."
"I used to have coughing fits and everything. Now I feel much better, I've got much more energy as well. Before, the first thing I would want in the morning would be a cigarette and that would be my first battle. Now my first thought is more optimistic really, like going for a run."
Markus sees quitting smoking as a lifestyle change, and has tried to incorporate quitting into having a healthier outlook to life. He says that quitting has made him see that, "success breeds success, it just builds and builds and builds and I can say that's all from quitting smoking."
Markus says that he feels "1000 percent" better.
Markus' main piece of advice to smokers who are trying to quit is to "reward yourself" with small treats, especially when you have got to the end of a really tough day without having a cigarette, having a treat celebrates what you've achieved. He also found it helpful to replace the cigarette with something positive; "I dealt with my cravings by breaking the routine and by replacing a cigarette with something healthy that would make me feel good, like going for a run, or eating an apple."
Markus has had a really positive experience with the help of Hackney's Stop Smoking Service and he had some nice words to say about the team who supported him: "If I hear of anyone who is quitting I recommend the service and say for me it really, really helped. I would like to say a big, big thank you to Marie and everyone in the team. It's such an important service and it's so nice and reassuring to know that they are there to help."
''When I first arrived at the clinic I was nervous and unconvinced there was anything they could do to help me. After a warm welcome and an informative chat about proven methods that work, I started to feel more confident and hopeful. Marie talked me through the different options I had and helped me fill out the pre-pay medication forms. Reassured and positive, I left with the tools I needed.
I can now say I doubt I'll ever pick it up again. I know I did most of the work but without the Smokefree guys I would never have got there!
Again a massive thank you and all the best!''
Mimi's Story
An international photographer Mimi Mollica started smoking when he was 17. After 22 years of puffing on 20-30 cigarettes a day he successfully quit during Stoptober and is now extremely proud to call himself a non-smoker.

Smoking was seen 'normal and pleasurable'
Just like most teens growing up, Mimi thought that smoking was cool, "I started in high school and wanted to be cool, independent, look mature and accepted by the group. My parents smoked, my teachers smoked and even though I hated it as a kid, I guess it was one of those things - subconsciously I thought it was not that bad. Soon smoking became a habit, a part of my identity and it was very normal to do it. I think all heavy smokers feel the same." Although most smokers know that tobacco is harmful, the nicotine in cigarettes causes a release of dopamine in the brain regions that control pleasure and motivation – the underlying pleasurable sensation that Mimi, like so many others, was experiencing. "I loved smoking! I loved everything about it. The taste, the smoke itself, the smell – everything, I just loved it. There was nothing I did not like about it. I was leading an active life, going to the gym and running, so I knew it was bad for me, but I didn't feel it. I felt invincible."

Changing attitudes
As time went by Mimi started to experience the negative consequences of smoking – shortness of breath, sore throat, chronic bronchitis. After the birth of his daughter, he decided that it was a good time to start thinking about stopping smoking. "I just didn't like it anymore and I knew I was not as young as before. I did not want my daughter to be fatherless in few years because I just didn't care and continued to smoke and got cancer and died." Mimi learned about the Stop Smoking Service from a Shoreditch Trust health professional promoting Stoptober for parents at his daughter's nursery. "I gave them my phone number, they contacted me and I just went." Mimi had tried to quit several times before and managed to stay smokefree for few months both times. "But I did not really want to stop at that time. I quit because I had flu so I didn't smoke and then I said to myself, 'OK, I'll just continue not to smoke', but, you know, you will never quit like that."

Going Smokefree
At first Mimi tried using different types of Nicotine Replacement Therapy (NRT) to find the most effective method for himself. He decided to start with 24-hour patches and the occasional piece of nicotine gum. After a few weeks he stopped using the patches and used an inhalator when needed; this lasted for the next couple of months. Mimi found that having the support of the stop smoking advisor was extremely important. "I think I was very lucky, because my advisor, Ryk, was amazing. I was able to speak to him about all sorts of things. I felt that he truly believed in me and that he valued me coming in and sharing my experiences. I also liked the accountability factor. The fact that you have to go every week and someone will ask how you are doing and will measure your CO levels. I found it very useful."

Advice to other quitters – keep a diary and be serious
Mimi believes that in order to succeed you have to be serious about quitting. "I think people have to realize that once you have entered through that door, there is no going back. If you relapse – you have not quit. And I know it's not easy. A year has gone by and I would still like to smoke a cigarette here and there, but I don't do it - I have reached a very good compromise where I don't need to smoke anymore." During his quitting period Mimi also kept a diary where he wrote down all the reasons why he smoked, why he wanted to stop and why he felt it was impossible. Mimi understood that his brain was "fixing" the smoking issue by making excuses not to quit and decided to tackle the reasons himself. "If you keep things just inside your head you will never be able to resolve them, so when you put it into writing, you are forced to deal with it and realize that what you have actually written down is not that big of a deal. For example, one of the things I wrote about was the psychological attachment of smoking to my identity. Once I wrote it down I started to think why that was; I could destroy that illusion and move on. I wrote in the diary until I was confident that I was on the right path." There are many benefits to quitting smoking and most ex-smokers have individual and personal reasons that help them enjoy a smokefree life. Apart from being able to breathe much better, Mimi is mostly enjoying, as he puts it; "the psychological satisfaction".
Alan's Story
"It was a stunning day, not the kind of day you want to be at work, and I was outside having a cigarette with the guys when we heard a steel drum playing. We went to see what was going on and it was the Stop Smoking Service doing outreach. I signed up there and then and I haven't looked back."

The Hackney Stop Smoking Service ran a closed support group for construction workers on a site in Shoreditch for Stoptober 2016. Stoptober is Public Health England's national annual campaign that encourages smokers to quit for one month, with the idea that if you can stop for 28 days, you can stop for good.

Alan had been thinking of giving up for a while, but seeing the Stop Smoking Service on the site where he was working was the kick start he needed to quit for good. Alan and 7 of his workmates attended the group weekly, shared their experiences and tips for staying smokefree with one another, and took Carbon Monoxide (CO) tests together to check for levels of the poisonous gas in tobacco smoke.

Alan was bought up in East London and started smoking as a teenager. Alan had successfully quit once before, aged 30, shortly after the birth of his daughter. "It was the thought of smoking around her and my wife, it wasn't good for them", Alan explained. "There was no kind of support to quit back then so I had to go cold turkey and it was awful. I was a nightmare to be around, I felt like an erupting volcano, you know it's coming and there's no way to hold it back, you just get so angry."

After nearly 20 years smokefree, Alan started socially smoking again about three years ago and gradually became a full smoker again. "I started having the odd one in the pub and before I knew it I was smoking again every day."

"She's been full of encouragement. My stop smoking advisor gave me a laminated sign stating the reason I had quit, and she's stuck it to the back of the front door so I see it every day. I know she'll keep me strong."

Meeting his current partner, a non-smoker, prompted Alan to think about quitting, and she has been a massive source of support for him. Alan is convinced that he will remain smokefree for good now. "If I do start smoking again I'll be really disappointed in myself, but I just can't see it happening", Alan said. "My sense of taste and smell have come back, and I can't stand the smell of cigarettes now. I also love going to gigs and I used to find it really hard staying in the venue for a couple of hours without going out for a cigarette, I'd be thinking about it constantly, but now I don't have that anxiety."

Alan has some words of encouragement for anyone considering quitting: "Just do it! The way I see it, I might have 30 years of my life left, or I might walk into a bus tomorrow, but I'd like to have as much time as possible and giving up smoking has given me the best chance of getting my 30 years. Why not hedge your bets in your favour?"
Ali's Story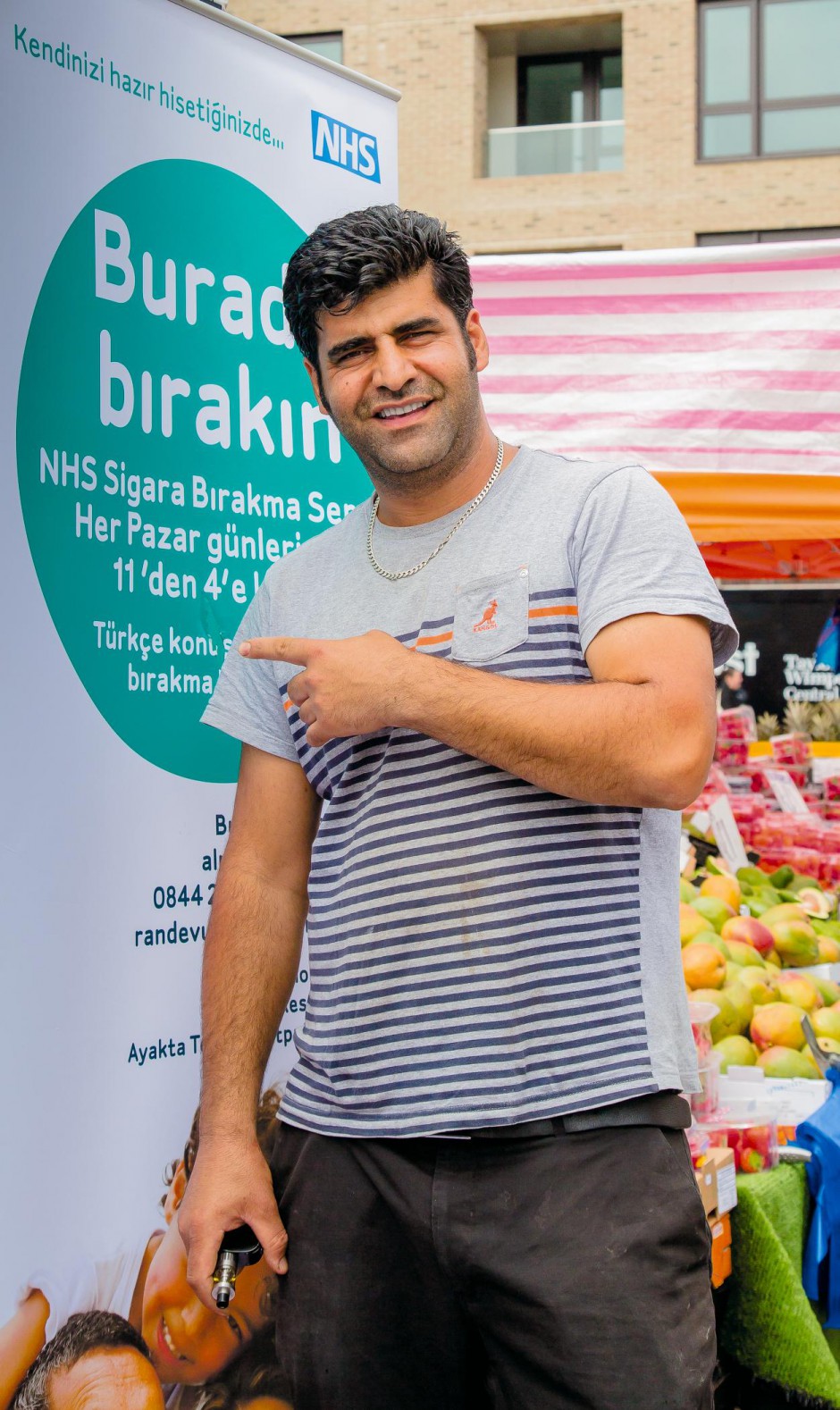 Ali's two-step stop smoking formula sounds deceptively simple, but he doesn't underestimate the challenges involved:
"First, you need to be really desperate to stop, that's the main thing.
And the second thing is the help from the service, which is really good. It's very difficult, but you can do it. And the person that's going to benefit the most is yourself."
Ali's stall on Ridley Road market, which he's had since moving to Hackney from Iraq 10 years ago, turned out to be an unexpectedly fortunate spot. He had tried to quit by himself before, with limited success; this time, though, it was different.
"I'm a stall holder and the Stop Smoking Service come to the market all the time, and I saw them there and started talking to them. And I really wanted to give it my best. I tried to stop smoking a few times before but it didn't work. But this time, I'm thinking, it's going to work! And now I haven't been smoking for nearly 6 months."
Before he quit, Ali was smoking 30 cigarettes every day - and had been for 12 years - but he was able to stop completely with the help of nicotine patches, gum, and an inhalator.
"I tried a few different things and they were very helpful. It was very good for me, and just what I needed. My advisor was very friendly, and really listened. And they wouldn't say no if I said I needed something else."
Ali has since started using an e-cigarette, which he's found to be a useful support tool.
"I've been using it for about two months now, because I was struggling. It was helpful, but I want to stop that as well now. If I need help again, the Stop Smoking people told me they're going to help me."
"A lot of people in my community smoke. I started smoking through the family, my mum was smoking and I asked her for a cigarette. And slowly, slowly, I started enjoying it. My mum still smokes because she's back in Iraq, she's not here to get the support that you need.
I've told friends about the service, and some of them are now planning to stop. The first time I thought about it, I really thought I would be the last person to stop, not me! But then I started the programme and slowly, slowly, it helped me."
Ali has repaid the favour by becoming one of the Stop Smoking team's loudest advocates, both on and off the market. In addition to plying for trade at his own stall, he publicises the Stop Smoking Service when they're at Ridley Road - in both English and Kurdish. This is particularly important as rates of smoking are very high in Hackney's Kurdish-speaking communities, especially for men.
In case anyone is thinking about quitting, but isn't sure that they can, Ali has a few last words of motivation:
"I say to them that they should give it their best shot. And if they fail, just don't worry, you might succeed in the future and it's going to be very helpful for you. You don't have to do it the first time, it might take a couple of times - it took me two or three times. But once you're planning to stop, already your process has started."
And in terms of the benefits of quitting, Ali is unequivocal:
"I can breathe much better, and I don't smell... Basically, I feel better about myself and also save a few quid!"