No Smoking Day 2017
Hackney Smokers Urged to 'Make This Their Smokefree Year' on No Smoking Day 2017.

---
08 March 2017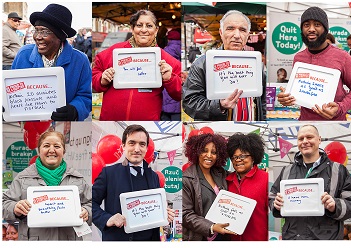 On Wednesday 8th March, Hackney's 43,000 smokers will be encouraged to quit tobacco for good.

There will be a range of events based in community settings in Hackney throughout the week from March 6th run by the Community and Bilingual Service within Smokefree Hackney, which is managed by Shoreditch Trust. On the day itself, they will be running campaigns at Ridley Road Market and at Homerton Hospital to boost awareness of the Stop Smoking services available in the borough.

Smoking Cessation Community Champions will be on hand to talk to local people about the benefits of quitting for good this year. They will be providing information and advice on quitting techniques, including the use of Electronic Cigarettes. Carbon monoxide and lung age testing will be available and they will be giving out balloons, lucky dip prizes, goody bags, health and wealth wheels and other freebies. Both smokers and non-smokers can attempt the tar jar challenge in a bid to win prizes.

Jonathan McShane, Labour Councillor for Haggerston Ward and Cabinet Member for Health, Social Care & Culture in Hackney says; "No Smoking Day provides the perfect opportunity for Hackney smokers to join thousands of others in the UK attempting to quit on the same day. This is why spreading the word about the support available is so important; to help many take their first steps towards a healthier and wealthier Smokefree life."

National No Smoking Day is an annual health campaign now in its 35th year which helped more than 800,000 people quit smoking last year and inspired another 1.5 million to seek out information to help them quit in future.

Fred Agbah, Smoking Cessation Services Manager for the Community and Bilingual Stop Smoking Service run by Shoreditch Trust says: "One of the biggest incentives for smokers to quit comes from considering the real amount of money they spend on cigarettes and thinking about what they and their family could afford if they were to give up for good. By tallying up the exact amount of money that could be saved, smokers can work towards a financial goal – be it a new pair of shoes, a family trip to the cinema or a dream holiday".

Nearly 17% of UK adults smoke, including just over 20% in Hackney, while around 100,000 die every year from smoking-related causes and a further 2 million people live with smoking-related illnesses that include Coronary Heart Disease, Chronic Obstructive Pulmonary Disease, Emphysema and Asthma.

From Monday the 6th of March, look out for stalls at Hackney Service Centre, across GP services and local pharmacies, and join scores of smokers to pledge to ditch cigarettes for good in 2017.

For more information on the benefits of quitting, visit www.smokefreehackney.org or contact Fred Agbah: 020 7033 8509 ¦ fred@shoreditchtrust.org.uk.