Hilary Clayton
---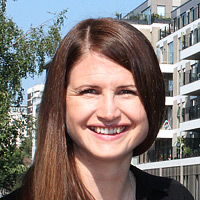 Hilary leads on the strategic development of the Trust's Enterprise and Community Asset development programme. The programme delivers affordable workspace for small creative, tech and social enterprises; manages Waterhouse Restaurant and conference centre; and supports the development of the Healthy Living Centre. For the past seven years Hilary has been developing the Enterprise programme for the Trust working with SMEs (Small and Medium-sized Enterprises), residents, corporate and third sector partners and communities in Shoreditch.

Hilary is a trained facilitator for the British Council's Active Citizens programme and has previously managed projects for the Trust relating to engagement and partnership, including the Trust's Creative Mentoring programme and events for Shoreditch Festival.
Alongside her work at Shoreditch Trust, Hilary served on the Board of Chats Palace Arts Centre in Homerton and volunteered for the Samaritans in East London as a listener for 3 years.
Hilary has lived in Hackney for eight years and is so proud to be part of Shoreditch Trust's inspiring work in the borough.
Tel.: 020 7033 8528
Based at Head Office, Orsman Road
Hilary is involved in:
Workspaces